Apartment 0305A.C
i

You have chosen: Danubius One
Choose floor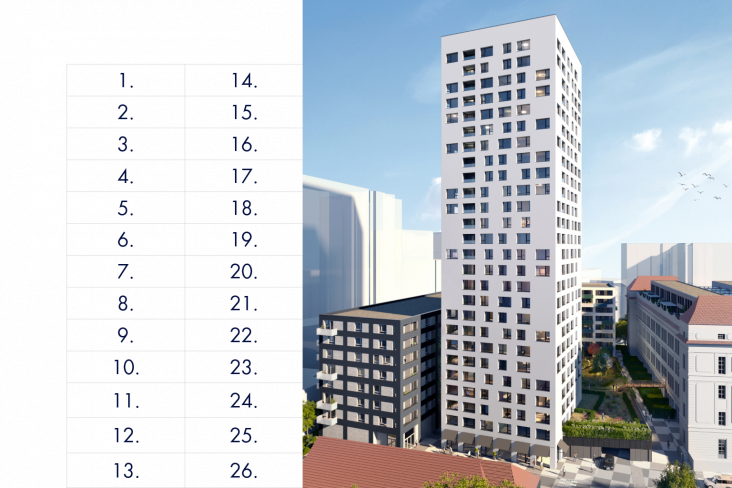 1st floor
2nd floor
3rd floor
4th floor
5th floor
6th floor
7th floor
8th floor
9th floor
10th floor
11th floor
12th floor
13th floor
14th floor
15th floor
16th floor
17th floor
18th floor
19th floor
20th floor
21st floor
22nd floor
23rd floor
24th floor
25th floor
26th floor
Flat plan

Flat plan

Floor plan

Floor plan
Apartment 0305A.C
Plan

Project

Stage

Floor

Orientation

NE, NW

Loggia

5,4 m2

Storage room

Yes

The price of the utility room is not included in the total price of the apartment.
Ownership

Personal

Layout

2+kitchenette

Area

59,6 m2

Status

On sale

Price inc. VAT

265 462 €

i

The unit price is valid on condition of application of the schedule of instalments 80/20. The specified price does not include a garage parking place, utility room or storeroom.

Installment from

894 €i

Monthly mortgage payment in case of 20% own resources and maturity of 30 years. Calculation is indicative.

Calculate your installments
Add to My Selection
Remove from My Selection
Calculate the amount of your instalments
You can calculate an approximate value of your monthly mortgage instalment quickly and easily thanks to our calculator.
Item price

€

Own capital

53 092 €

Fixation period

5 Years

Time of repayment

Interest rate from

2.99 % p.a.

Installment from

894 €
This calculation is only indicative and applies for own resources amounting to 20 % or 80% LTV. For an exact calculation based on individual requirements and parameters contact our financial specialists. The calculation has been drawn up based on a real estate price determined according to the schedule of payments 90/10.
About project
Danubius One introduces a 26-storey building
The total number of units is 119 with the layouts from 1-bedroom up to above-standard 5-bedroom
Parking places are available in the garage under the building.
Fully-fledged public amenities
The building also includes commercial space to be leased
Excellent accessibility by public transport 10 minutes away from the city centre
Energy performance B
Status: On sale
Architects: A69 – architekti, s.r.o.
About location
Remarkable charm with respect for history
The Danubius One naturally fits in the already built surrounding residential development regarding the architectural style and they, together with the surrounding buildings, create a natural quiet courtyard with a garden designed for moments of relaxation with family and friends.
The character of the Project will later be supplemented by the planned sensitive refurbishment of the historic Cvernovka – Danubius building, which was historically a spinning mill that started is operation in 1901. It was this historic building that gave its name to the whole Project.
Designed for family
It has never been easier to find a program for family and children. You can go to the nearby outdoor swimming pool and enjoy common water fun or skating or cycling in the brand-new park surrounded by a beautiful natural countryside with lakes and trees. You can manage your shopping quickly and easily. The Central Department Store is accessible on foot and fresh vegetables are always available at the nearby market.
Excellent apartments looking over city
At Danubius One, you can enjoy your favorite drink with a panoramic view of the city and the surrounding area on the 11th and higher floors.
In the Project you will find large family apartments from 4-room to above-standard 5-room apartments, which are located on the top floors. Of course, there are exclusive views overlooking Bratislava Castle and other nice places. Highly comfortable living is complemented by the possibility of connecting apartments to central air conditioning
A place created for your family
Every night you can fall asleep with the feeling that you have done your best for yourself and your family.
LIVING IN RUŽINOV
Ružinov is a well-known and popular district of Bratislava with a wide range of services, civic facilities, and excellent transport accessibility to the rest of Bratislava.
Kindergartens and elementary schools, playgrounds, a health centre, pharmacy, and post office are located in the vicinity of the project. The well-known sports centres in Bratislava offer various leisure activities for children and adults. Specifically, the modern Winter Arena of Ondrej Nepela, the National Tennis Centre, Football Stadium, Pasienky Basketball Hall, Tehelné Pole Swimming Pool, and Pasienky Indoor Pool. Ružinov is perfectly connected to the network of cycle paths that intertwine throughout the entire Bratislava.
There are many practical and stylish shops in the Central Department Store. The nearby Miletičova marketplace smells of flowers, herbs and spices, and you can also find fresh vegetables and fruits there.
You don't even have to go far for culture. You can go to the Radošin Naive Theatre or the cinema in the POLUS Shopping Centre. You can also spend a relaxing evening at one of the local cafés or restaurants.
Find a peace in the wellness centre, which includes a fitness room. You can also spend a quiet afternoon at the nearby Kuchajda and Štrkovecké lakes, where you can go jogging, roller skating, or take a walk.
Living in Bratislava's Ružinov offers many alternatives. And it is only up to you how you decide to spend your free time.
There is the historic Cvernovka building in the immediate vicinity of the project, which has been operating since 1901 as a thread factory. In 2004, its operation ended and since then the space has been abandoned.

The building with more than a century of tradition will be reconstructed with an emphasis on preserving the special character of the building and sensitive connection of the historical part with modern housing.

As part of the restoration of the entire area, other stores will be added to the existing shops and services, offering residents places to sit with friends, shop or relax. Everything is just a few steps from the door of your new home.
...
Map legend
project
restaurant
bus stop
gas station
shopping center
high school
doctor
tram stop
sport areal
atm
university
playground