Flat 0901.B
i

You have chosen: Premiѐre
Choose floor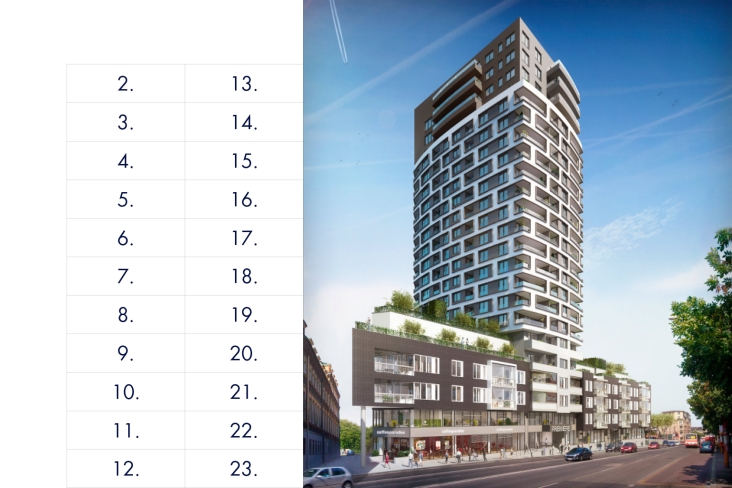 2nd floor
3rd floor
4th floor
5th floor
6th floor
7th floor
8th floor
9th floor
10th floor
11th floor
12th floor
13th floor
14th floor
15th floor
16th floor
17th floor
18th floor
19th floor
20th floor
21st floor
22nd floor
23rd floor
Flat plan

Flat

Floor plan

Floor
Flat 0901.B
Ownership

Personal

Layout

2+kitchenette

Area

48,1 m2

Status

On saleN

Tentative reserved

Price inc. VAT

210 037 €

i

This price is calculated according to the standard repayment schedule. The listed prices do not include the garage parking and cellar.

Installment from

525 €i

Monthly at LTV 80% and 30 years maturity, calculation is only indicative.

Calculate your installments
Add to My Selection
Remove from My Selection
Calculate the amount of your instalments
You can calculate an approximate value of your monthly mortgage instalment quickly and easily thanks to our calculator.
Item price

€

Own capital

42 007 €

Fixation period

5 Years

Time of repayment

Interest rate from

0.80 % p.a.

Installment from

525 €
This calculation is only indicative and applies for own resources amounting to 20 % or 80% LTV. For an exact calculation based on individual requirements and parameters contact our financial specialists. The calculation has been drawn up based on a real estate price determined according to the schedule of payments 90/10.
About project
Première introduces a 23-storey building
The total number of units is 168 with the layouts from 1-room (32 m2) to 4-room (125 m2) units.
We offer the flats, apartments and studios with optional variable solutions of the interior
Parking places are available in the under-ground garage
The building also includes commercial space to be leased
The locality includes fully-fledged public amenities
Excellent accessibility by public transport
15 minutes away from the city centre
Energy performance A – applies for all units in this phase
Progress: Approved
Architect: AHK ARCHITEKTI, s.r.o., Designer: OBERMEYER HELIKA s.r.o.
About location
Šancová is a locality that is ideal for working and living as well. Owning an apartment in that locality is at the same time an investment that will always find its appreciation in the future. The PREMIЀRE project represents a 23-storey apartment house with flats, apartments and studios. 1-room up to 4-room apartments with area from 32 m2 to 125 m2 are for sale. Each flat, apartment or studio has its own balcony, enclosed balcony or terrace and is sold in a standard corresponding to the requirements for modern urban housing of the 21st century. Thus, the owners of the apartments get not only an exclusive place for living or an investment, but many of them can also enjoy a beautiful panoramic view of the entire city.
Thanks to its position, this locality belongs among the sought-after and attractive addresses for a full-enjoyment city life. It provides its citizens with decent amenities. Today, Šancová street is a pulsating artery of the town from which you can get to the Bratislava Castle, Central shopping centre or Koliba forest park in just a few moments.
We would like to invite you to our sample apartment so that you can get the picture of your possible new living in the Premiѐre residential project in the heart of Bratislava. It is a large, bright 2-room apartment with a view of three cardinal points (north, east and west) that is located on the 12th floor. The apartment is equipped with a modern fitted furniture and provides a sufficient storage space. Arrange a visit in the model apartment using the form below and come to find out that you will feel home in our residential project..
...
Map legend
project
bus stop
tram stop
restaurant
doctor
university
high school
shopping center
kindergarten
library
train station
post
pharmacy
gas station