Flats Jégého alej and Danubius
Jégého alej and Danubius
Choose floor

2nd floor

3rd floor

4th floor

5th floor

6th floor

7th floor

8th floor

Jégého alej V

Choose floor

1st floor

2nd floor

3rd floor

4th floor

5th floor

6th floor

7th floor

8th floor

9th floor

10th floor

11th floor

12th floor

13th floor

14th floor

15th floor

16th floor

17th floor

18th floor

19th floor

20th floor

21st floor

22nd floor

23rd floor

24th floor

25th floor

26th floor

Danubius One
i

You have chosen Jégého alej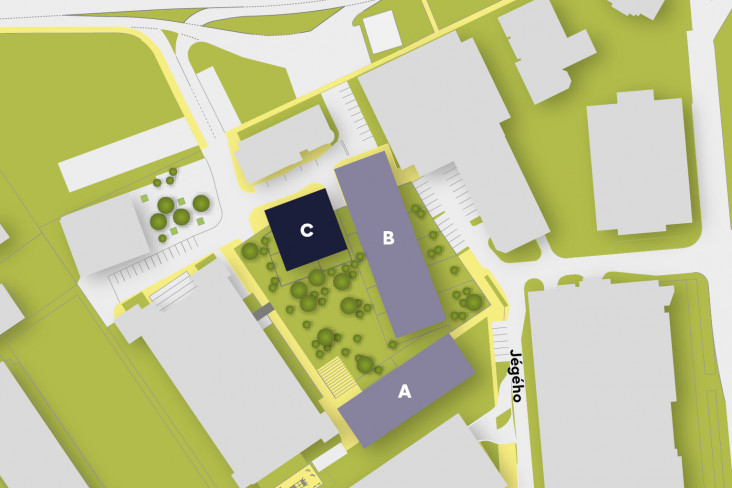 Jégého alej V
Danubius One
Model

Model

House visualization

Visualization

Location Gallery

Location
Print pricelist
Order
from the lowest

from the lowest

from the highest

from the smallest area

from the biggest area

from the smallest layout

from the biggest layout

from the lowest floor

from the top floor
The individual prices are based on the rules specified with the individual properties on our website: www.finep.cz.
The individual discounts are based on the rules specified with the individual properties on our website: www.finep.cz.
We will help you to choose an apartment
Do you need help? Contact us, we are here for you.
Remarkable charm
Living in a new modern apartment is in itself a great feeling. Every day, you park your car in the garage right under your house, take the elevator, and enter a space designed just for you.
And it's not just about living. The closest neighbourhood is important for each of the residents. Therefore, every time you travel from your new home, you will enjoy a private courtyard garden with a number of quiet zones that will invite you to rest and relax.
The nature of the project "The continuation of the Jégého alej" by Czech architects from the architectural studio A69 - architects s.r.o. will be completed by an upcoming sensitive and sophisticated refurbishment of the historic Cvernovka building, which has been operating since 1901 as a spinning mill, i.e. a plant for manufacturing threads and thread products. Renowned Slovak architects from the architectural studio beňuška.topinka architekti are behind the transformation of this building and the whole project.
The urban character in this place will be created by planned space for a café and places suitable for sitting.
Designed for family
It has never been easier to find a program for family and children. Jégého alej offers a wealth of options.
You can go to the nearby outdoor swimming pool and enjoy common water fun or skating or cycling in the brand new park surrounded by a beautiful natural countryside with lakes and trees. Small children will surely enjoy romping on the playground. Another playground is literally round the corner, just a few minutes' walk from your home.
You can manage your shopping quickly and easily. The Central Department Store is accessible on foot and offers all practical and stylish shops. You can walk to the local bakery for fresh pastries right directly in the area of Jégého alej and fresh vegetables are always available at the nearby market.
A place where you will have time for youself
Do you just need to find time for yourself? To relax and attend to yourself?
The heart of sports lovers will glorify tha lakes Kuchajda and Štrkovecké, where you can enjoy jogging in the fresh air and beautiful countryside.
A fitness centre with an indoor pool and wellness area are available less than a 5 minutes' walk away. There are also tennis courts, a sports hall, a hockey and a football stadium and much more.
Fans of urban life will also be pleased. You can enjoy your favourite cup of coffee in the upcoming café right in the Jégého alej and a great Peruvian restaurant is just a few steps from there. A walk through the surrounding area can take you to the nearby Miletičova town marketplace full of flowers, fresh vegetables, fruits, and other local food. No matter if you want to sit-down over a cup of coffee, do sports, or just relax on a bench in the garden of the Jégého alej. You will surely feel stress relieving.
A place created for your family
Every night you can fall asleep with the feeling that you have done your best for yourself and your family.
LIVING IN RUŽINOV
Ružinov is a well-known and popular district of Bratislava with a wide range of services, civic facilities, and excellent transport accessibility to the rest of Bratislava.
Kindergartens and elementary schools, playgrounds, a health centre, pharmacy, and post office are located in the vicinity of the project. The well-known sports centres in Bratislava offer various leisure activities for children and adults. Specifically, the modern Winter Arena of Ondrej Nepela, the National Tennis Centre, Football Stadium, Pasienky Basketball Hall, Tehelné Pole Swimming Pool, and Pasienky Indoor Pool. Ružinov is perfectly connected to the network of cycle paths that intertwine throughout the entire Bratislava.
There are many practical and stylish shops in the Central Department Store. The nearby Miletičova marketplace smells of flowers, herbs and spices, and you can also find fresh vegetables and fruits there.
You don't even have to go far for culture. You can go to the Radošin Naive Theatre or the cinema in the POLUS Shopping Centre. You can also spend a relaxing evening at one of the local cafés or restaurants.
Find a peace in the wellness centre, which includes a fitness room. You can also spend a quiet afternoon at the nearby Kuchajda and Štrkovecké lakes, where you can go jogging, roller skating, or take a walk.
Living in Bratislava's Ružinov offers many alternatives. And it is only up to you how you decide to spend your free time.
There is the historic Cvernovka building in the immediate vicinity of the project, which has been operating since 1901 as a thread factory. In 2004, its operation ended and since then the space has been abandoned.

The building with more than a century of tradition will be reconstructed with an emphasis on preserving the special character of the building and sensitive connection of the historical part with modern housing.

As part of the restoration of the entire area, other stores will be added to the existing shops and services, offering residents places to sit with friends, shop or relax. Everything is just a few steps from the door of your new home.